During the campaign, we gave a voice to the voiceless. We forced long-ignored issues to the top of the political agenda. I am sending this newsletter so we can stay connected, be engaged, share thoughts, ideas, concerns, and take action.
Together, we can hold our elected officials accountable and bring real change to Oregon.
The state we love is still worth the fight. 
HERE'S WHAT HAS BEEN ON MY MIND…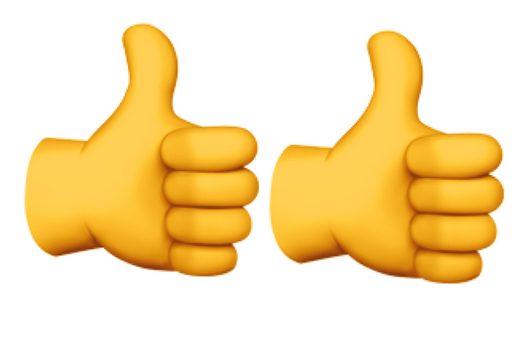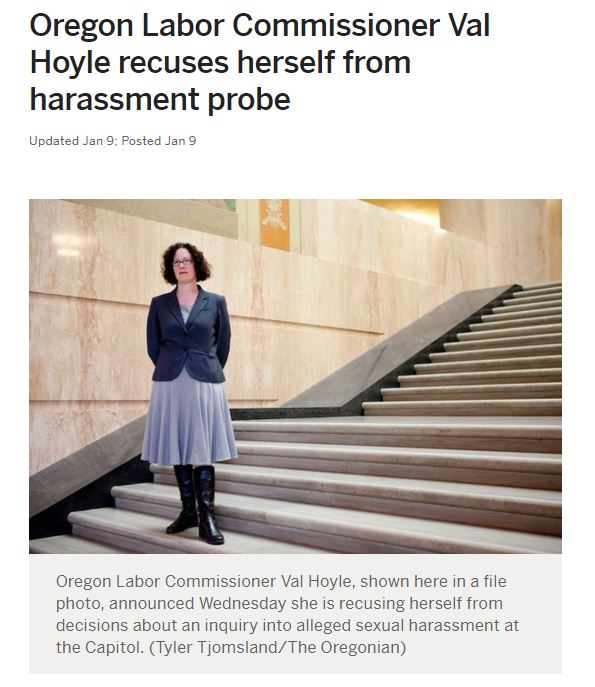 In the thumbs up category…
I would like to recognize former BOLI Commissioner Brad Avakian for having the courage to hold legislative leaders in his own party accountable for the widespread sexual harassment and a broken culture in the state capitol. Also, new BOLI Commissioner Val Hoyle for rightfully not overseeing the ongoing investigation for concerns with regards to her personal conflict of interest from being a former legislative leader. Well done by both.  
You can read the Oregonian article here.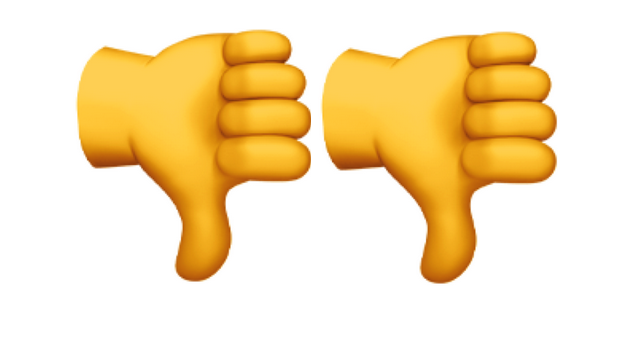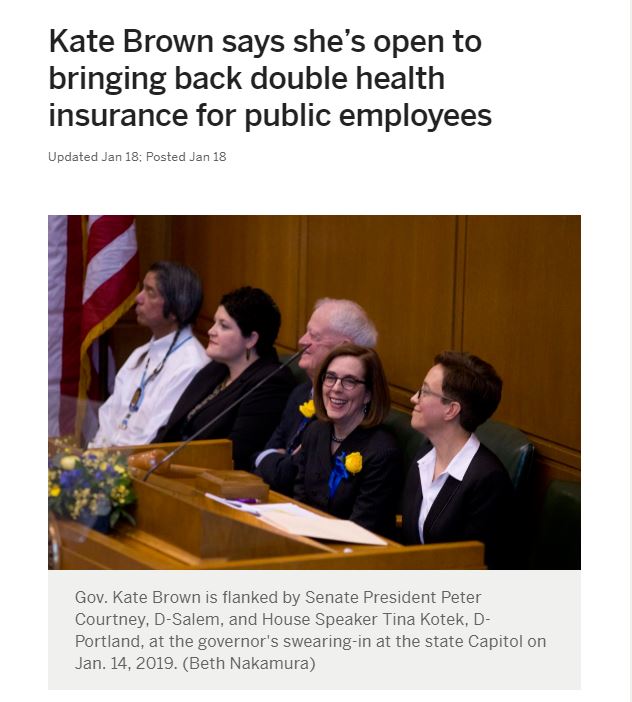 In the thumbs down category…
More budgetary insanity from Governor Brown. No wonder Salem Democrats need to raise taxes at a time of record revenue in the state treasury.
You can read the Oregonian article here.
*** OPPORTUNITIES FOR ACTION ***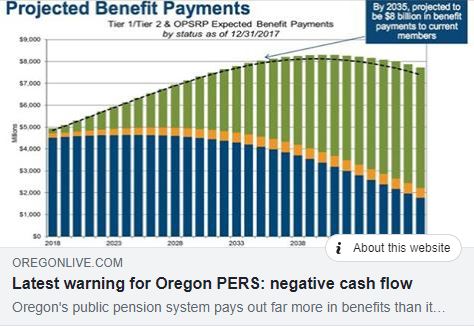 1. Talking politics, actually talking.
While other problems may be easier to tackle or more politically attractive, none is more critical than the financial solvency of our state. Our schools, services, tax revenue and future are at stake.
You can read the Oregon Live article here. And call Governor Brown at (503)378-4582 to demand PERS reform. Press 3 to leave a message. 
Do you find it difficult to talk to friends and family about our state's fiscal crisis? The topic of politics can be difficult to navigate (stating the obvious). I recommend approaching respectfully to seek to understand their position and find an opportunity for a real conversation. If your opinions differ, ask for sources that support their point of view and offer up yours. We can learn a lot from talking to each other and reaching beyond resharing inflammatory statements and misleading headlines. 
We desperately need PERS reform, but that is impossible with a single party majority in the House, Senate, and Governor's office catering to special interest groups. All Oregonians need to be informed and empowered to influence their elected leaders.    
If you want to dig deeper into the history of PERS I highly recommend this recent OPB Think Out Loud episode: The $22 Billion Question: Understanding PERS.
2. WOW – insist action
The Director of Compliance at the Oregon Health Authority confirms, "complete lack of accountability", "improper relationships" and that the agency "ignores" misspending by CCOs. Ugh!! Time for someone in Salem to bring accountability.
You can read the Portland Tribune article here.
Email Representative Mitch Greenlick, House Healthcare Committee Chair, and Speaker Tina Kotek and insist on an actionable response to bring accountability to the OHA.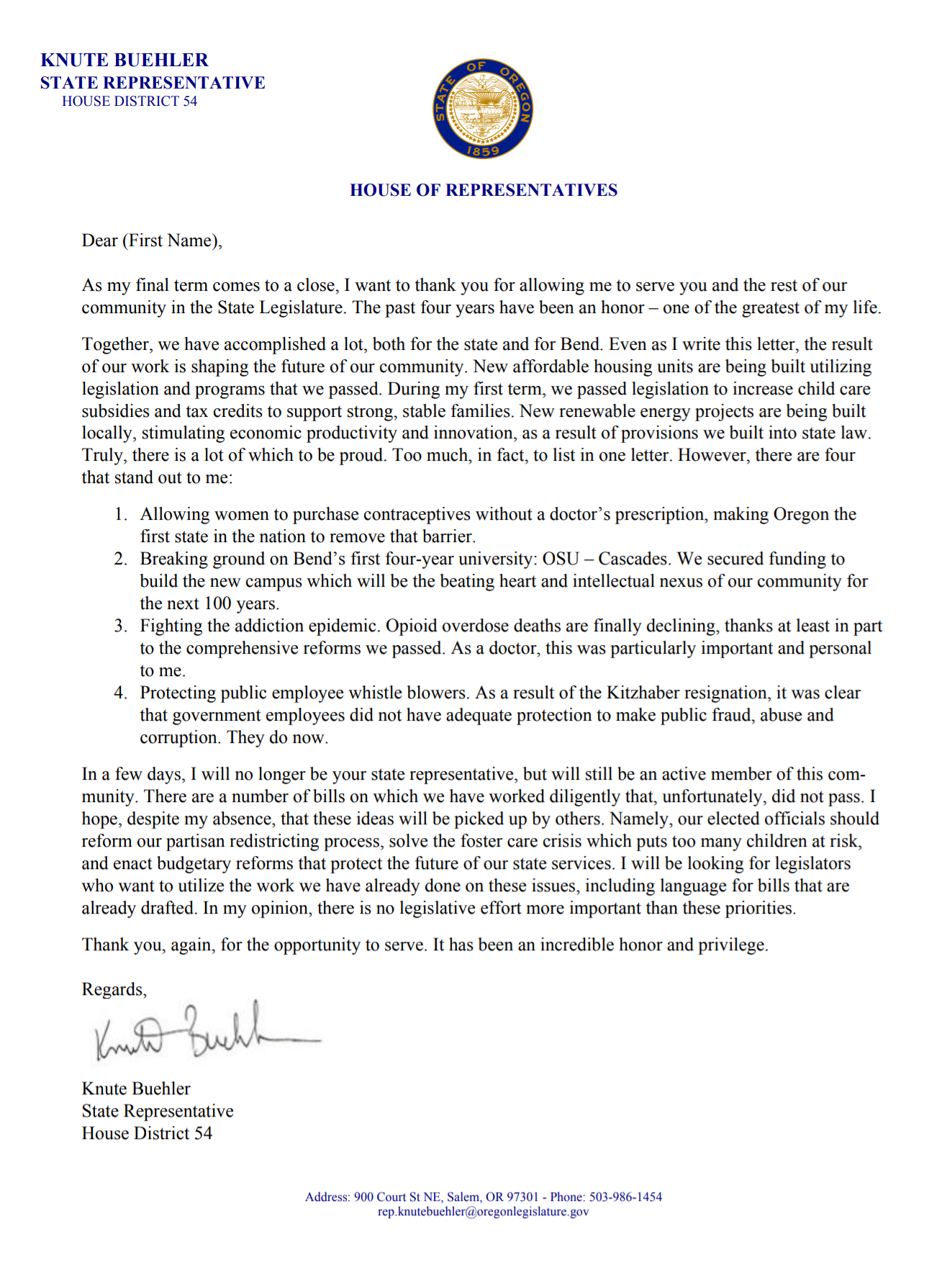 Letter to House District 54
I am now the former State Representative of House District 54. During my final week, I drafted and mailed a letter thanking constituents for four years – one of the greatest honors and privileges of my life. We accomplished a lot together and there is much to be proud of, however four especially stood out to me:
1. Allowing women to purchase contraceptives without a doctor's prescription, making Oregon the first state in the nation to remove that barrier.
2. Breaking ground on Bend's first four-year university: OSU – Cascades. We secured funding to build the new campus which will be the beating heart and intellectual nexus of our community for the next 100 years.
3. Fighting the addiction epidemic. Opioid overdose deaths are finally declining, thanks at least in part to the comprehensive reforms we passed. As a doctor, this was particularly important and personal to me.
4. Protecting public employee whistle blowers. As a result of the Kitzhaber resignation, it was clear that government employees did not have adequate protection to make public fraud, abuse and corruption. They do now.
Now the torch has been passed.
Representative Cheri Helt was sworn-in last week and someone you should definitely follow on Facebook. You can read more about Rep. Helt in this Source Weekly article which also happens to be written by another former Rep. from HD 54. I have full confidence Cheri will do great things for Bend and for Oregon. But she needs your help and to hear from you. Be informed, stay engaged.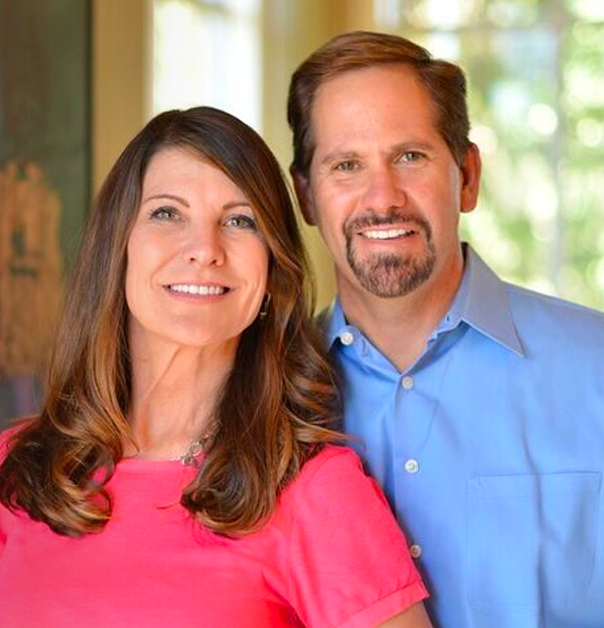 Happy birthday Patty!
It sounds cliché to say, but is the absolute truth. I would not be who I am today without Patty. We've built businesses together, raised two great kids, ran successful and difficult campaigns, served our community, served our state, and we still have so much fun. Patty is the love of my life, my greatest support and the firmest coach who always pushes me to the best version of myself. 
I celebrate Patty everyday, but make special effort to recognize all she does on her birthday. Patty has a public Facebook page and maintains this email address if you'd like to drop her a line. I'm sure she'd love to hear from you.